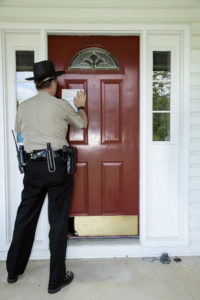 After a Judge enters a Final Judgment of Eviction in the State of Florida, the Clerk of Court will enter a Florida Writ of Possession that a Sheriff is required to serve on the Tenant.  A Florida Writ of Possession is a court order that directs the Sheriff to execute and give possession back to the Landlord. This process is set forth in Florida Statutes, 83.62.
The Florida Writ of Possession once served by the Sheriff gives the Tenant twenty-four (24) hours to remove all of possessions before the Sheriff comes back to the property to execute the Florida Writ of Possession.  At the time the Sheriff executes the Florida Writ of Possession or at any time thereafter, the Landlord or the Landlord's agent may remove any personal property found on the premises to or near the property line.Neither the sheriff nor the landlord or the landlord's agent shall be liable to the tenant or any other party for the loss, destruction, or damage to the property after it has been removed.
If you believe your Landlord has filed the Eviction in error or that you are wrongly being evicted, you are allowed to file a Motion to Stay the Writ of Possession.
It is highly recommended that if you choose to file a Motion to Stay the Writ of Possession that you seek the services from an experienced attorney that handles Landlord/Tenant issues.   If you are a Tenant and received a Florida Writ of Possession from the Sherriff, contact the experienced and knowledgeable Eviction Attorneys @ 954 Eviction Attorneys, PLLC today @ 954.323.2529 before its too late. We have offices in Broward and Palm Beach to better accommodate our clients.